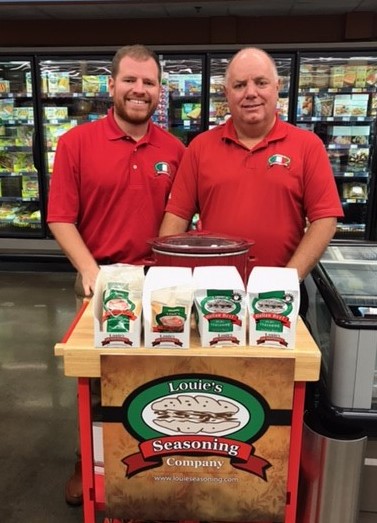 My father, Chris Gualdoni, was the original Owner and President of Louie's Seasoning Company, Inc. He got his entrepreneurial start in 1980 as a clerk in his family's Italian grocery store. After almost 20 years in the grocery business, he decided it was time to branch out on his own and in 1999, Louie's Seasoning Company, Inc. was born.
My dad started Louie's Seasoning Company with his core product, Louie's Italian Beef Seasoning and later decided to expand the dry mix line to also include Louie's "Wild Game" Seasoning.
To compliment the Italian Beef Seasoning, he then developed our sandwich topper line up which includes, Greek whole pepperoncini's, hot and mild giardiniera, mild olive salad and muffuletta.
In 2015, Louie's Seasoning Company again expanded and purchased the "Fish-n-D-lit" Kentucky Coating Mixes. These corn meal coatings are available in hot and spicy or original and are great for frying or baking fish, chicken and vegetables.
With ten years of experience, I was honored to join Louie's Seasoning Company in 2018 as the Director of Sales. Dad and I then developed Louie's Original Pasta Sauce. From our ancestors in Cuggiono Italy, to your table, we bring you the taste of authentic pasta sauce for your family to enjoy.
After 20 years with Louie's Seasoning Company, Dad decided it was time to retire.  I am proud to be able to carry the family torch and continue the Louie's traditions as its President.  I look forward to continuing to expand the product line and distribution of our top-quality products that you have come to know and love.  The future of Louie's Seasoning Company is bright, and we owe so much to our loyal customers. Thank you.    
Sincerely,
Louis Gualdoni