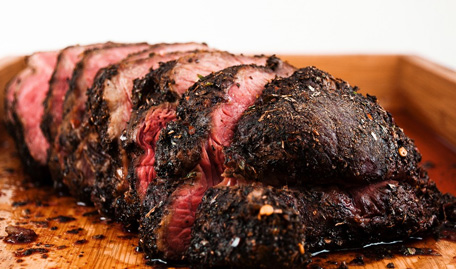 Italian Sirloin Tip Roast
INGREDIENTS :
3 lb sirloin tip roast
6 slices garlic (thin, half clove width)
DIRECTIONS
Cut slits in roast and insert garlic slices.
Cover roast with 1/2 package Louie's Italian Beef Seasoning.
Wrap roast in foil and place on backing rack in oven.
Roast at 325 degrees to internal temperature of 155 degrees.
Let stand 20 minutes.
Prepare remaining 1/2 package of Louie's Seasoning with about 1 cup water, heat stirring until thickened.
Slice beef against the grain and drop slices into sauce.
Heat one minute and place slices on sourdough hoagie type roll.
Wrap sandwiches in foil (like a burger) and peel back to eat.
BACK TO BEEF RECIPES